Hello everyone! Things have been rather quiet on the Mobile in Black and White front for a while now, but with all that has been going on lately, we thought it was time to do something.
Our project was started almost ten years ago in an attempt to address the racial problems that continued to plague Mobile, Alabama, and the entire nation, even though many well-meaning people sincerely believed that we had moved past those problems as a society.
The feature version of the film ended up going to fourteen film festivals around the US in 2014, but it was in its original version of four shorter segments and the accompanying program for community conversations where it was able to make a significant contribution in Mobile and beyond.
One of the main motivations in making the film was to get people to think of race/racism as something more than just individual "bad" people saying, doing, or even thinking bad things. Rather, we wanted people to start thinking of racism as a systemic issue that is embedded deeply into the structures underlying and connecting our communities, as a reality that continues to affect people's lives whether or not individual bad actors are causing them to happen.
Now, ten years after we started and almost five years after our community conversations wrapped up, those structural, systemic problems seem far more apparent than they did then. So we thought it might be time to bring Mobile in Black and White back for another look.
Therefore, over the next four weeks, we will be holding a series of virtual conversations that will be presented in the form of a Facebook and YouTube "live" video feed. We will show a segment each week and then hold an online panel discussion directly afterward that will feature some of the key figures in that segment.
Each panel will consist of well-known outside experts like Peggy McIntosh, Cynthia Tucker, Terry Keleher, and Anthony Outler, as well as local Mobilians who played a key role in the film such as Merceria Ludgood, Jim Flowers, Karlos Finley, and Frye Gaillard. We will have our segment 4 panel lineup soon. We hope you will be as excited about this lineup as we are!
Each segment will be broadcast from our Facebook Page and YouTube Channel on the next four Wednesdays at 11:15am CDT. The panel discussions will start promptly at 12:00pm. The full schedule can be seen below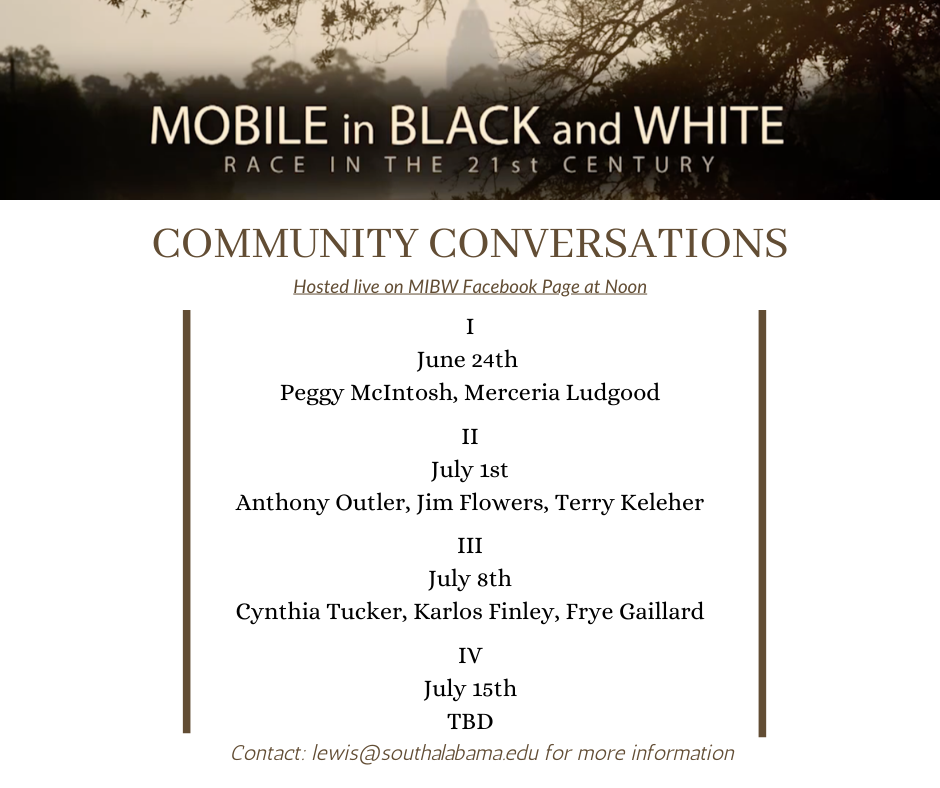 We hope to see you there!